Forex Data Manager software is now part of Smart Forex Tester bundle.
Historical data is a prerequisite for Forex trading strategy backtesting. Its quality directly influence the reliability of the testing results.
So, well-known MetaTrader strategy tester generates tick data by  interpolating it from M1 data. The quotes obtained this way are artificial and can lead to incorrect testing results.
The best option is using real market tick data. We use historical Forex data provided by TrueFX. They share Interbank high quality quotes for 15 major currency pairs. You can download archive data since 2009.
In addition, you can get streaming quotes via HTTP API. So you can very conveniently do forward testing as well.
And the best part is that TrueFX provides this quality data absolutely free!
The data is arranged in .csv files each containing 1 month of tick quotes. So the files are over 200 MB in size, which is a lot. MS Excel fails to open files of such size.
Our Smart Forex Tester software supports the TrueFX quotes and it can load a monthly file without problems. The Strategy Tester also supports cutting fragments and saving them as separate files.
However, it is convenient to split big files in smaller. For example, a week is a logical portion – from the start of trading on Sunday in Tokyo to the end on Friday in New York. We split for even smaller chunks – trading sessions or other strategy test scenarios.
To make splitting the historical market data files easier, we developed Forex Data Manager software. It is included in the Smart Forex Tester download bundle.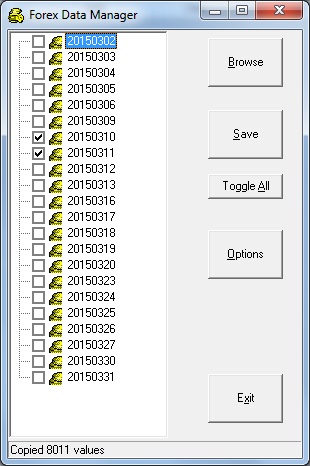 Data manager reads a .csv file and shows each trading day it found there. During download, data integrity is checked and if errors are found, status string shows that and error log shows which data is wrong. Then you need to fix the problem manually.
If data parsing is successful, you can select the data subset you want to save by using day checkboxes and start/stop time controls. They are shown if you click "Options"-button. Once selection is done, click "Save" and specify a file name.
You can do one save at a time. If multiple days are selected, they will be merged.
Start/stop times are specified in 24H format. Times are GMT. If the stop time is earlier than start time, you need to select 2 adjacent days, and then a data segment will be written that stretches over midnight.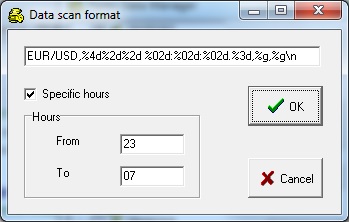 For example, if you want to write the Asian session, you set start time to 23 and the stop time to 7. The latter means that all ticks with timestamp up to 07.59:999 will be written.
Download Smart Forex Tester software.