THIS PAGE IS DEPRECATED!
The example is based on the old software. We are porting it to the new platform.
Subscribe to download the latest Smart Forex Tester software and be notified when the strategy is ported.
This post is a comprehensive example of Forex strategy testing with our Smart Forex Tester software. We used our example automated Forex day trading strategy. You can repeat our tests yourself: below we provide all needed information, and the strategy file is included in the download bundle.
Our test plan was to run the strategy on all Asian sessions for one month.  The strategy is very simple and it doesn't adjust its  parameters to the market conditions. So we wanted to keep all algorithm's parameters the same during the testing.
Asian sessions were selected as test data because their volatility is known to be low. It is important, because our simple strategy doesn't have a trend following algorithm.
We tested on EURUSD. We used tick-by-tick market data provided by TrueFX. We took a whole month data file for April 2015 and prepared our test data with the help of our Forex Data Manager software (download).
Overall test results were positive. Total profit exceeded 280 pips. Out of 17 trading sessions, 12 were profitable.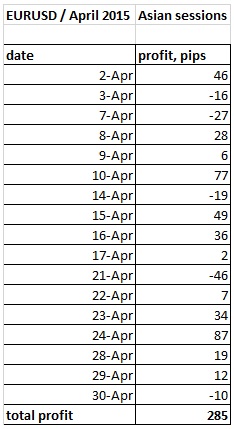 The best result we got for the April, 24. We can see that our algorithm managed to enter the market at tops and bottoms quite well and stop orders' trailing worked properly as well.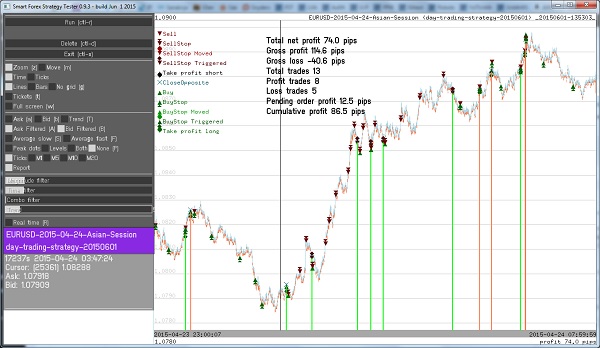 As the algorithm doesn't have any trend following functionality, we can only explain this fact by the slow enough market movement.
The worst session was on April, 21. This can be attributed to visibly higher jitter in quotes, so our algorithm had a lot of false signals.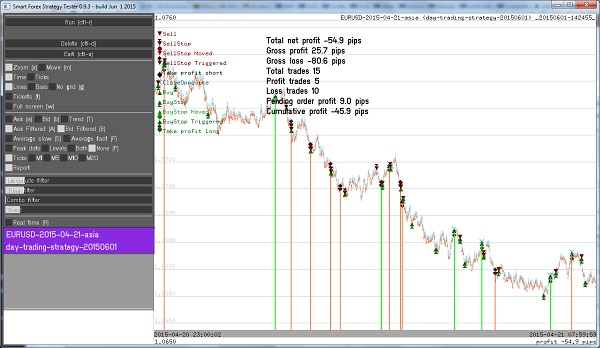 Interestingly, we could easily turn this worst trading session into a profitable one by increasing a bit the delay of the filters (especially that of the slow filter). But we didn't do that as this was against our test plan.
However, this observation is one of the most important results of the testing, which gave us strategy development ideas.
If you want to repeat our testing, here are our parameters.
For the pivot points detector, we used the following values.
peaks.span=253.012
peaks.quality=1e-005
peaks.limit=0.00026506
You can set them in GUI with the Filter sliders, or edit the values directly in the  …\data\fst.ini file in your installation folder. If you choose to edit the file, remember to do it when the tester software is not running – otherwise the software will overwrite these values on its shutdown.
For the filters, we used the following values
# rank filter (filter2 is a slow one)
filter.dim=5
filter.idx=2
filter2.dim=15
filter2.idx=7
These values you need to set in the …\data\fst file in your installation folder.
Takeprofit and stoploss values were 8 pips each. They need to be set in the strategy itself (…\data\Strategies\day-trading-strategy-20150601.stg)
minProfit = 0.0008
drawDown = 0.0008
Day Trading Strategy Improvements
Based on our testing results, we are positive we can make automated day trading profitable.
Our strategy is very simple but still it could win 70% of all trading sessions!
It is clear that priority needs to be assigned to implementing algorithm parameters adjustments on the fly.
An obvious idea to try first would be adjusting the filter parameters. We can optimize them on each tick (or, say, every 10-100 ticks) using the data from beginning of the test. This way, the jitter observed on April, 21 would have been easily eliminated.
We are working on improvements and will be posting our results here.