Live forex signals can be generated for free with our Smart Forex Tester.
When we run the Tester on real-time market data feed, we can trigger automated forex signals every time when our day trading strategy is entering or exiting markets.
Signals are short sounds. They can be turned on or off in the Tester GUI, and the tunes can be configured for each of the market events.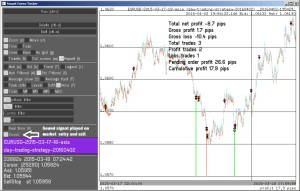 The live data is sent to the Tester by our Forex Simulator,  which in its real-time mode supports 10 main currency pairs. This short video shows how the Tester and Simulator work together. (The signal is at 3.10)
Alternatively, the Tester can receive live market data from a Metatrader client terminal via a special Expert Advisor. This EA you have downloaded together with the Tester.
The automated day trading strategy is also included in the Smart Forex Tester download bundle. It uses our unique algorithm to detects market pivot points in real time.
How accurate are the signals. The current version of the strategy works the best on the rangebound markets. However, it can also generate profitable signals on moderate trends. We are working to adapt the strategy for the trending market.
The Tester GUI provides you the controls to change the main strategy parameters. So you can experiment with them to adjust to the current market situation.
Want to try yourself how accurate these live Forex signals are?
Subscribe for free to download Smart Strategy Tester and Forex Simulator.