Pivot Point Analyzer will be integrated into the Smart Tester Suite in 10/2017
The Pivot Points Analyzer software uses our original algorithm to find market extremes. The key point is that the pivot points are detected in real time.
GET PIVOT POINT ANALYZER AND OTHER FREE FOREX SOFTWARE!
On an example screenshot below, detected pivot points are marked with black dots. Most noteworthy is the fact that they all were detected in real time. This means the algorithm only used the price data available to the left of each pivot point.  With this in mind, the accuracy is stunning – especially for the arrow-marked bottom close to the left.
The Pivot Point Analyzer requires a free subscription to download.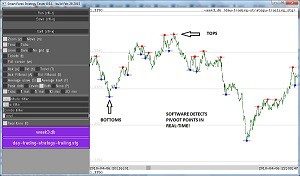 Real-time signals from the Analyzer are used to enter a trade very close to local market tops or bottoms. Such market timing is, obviously, very helpful – regardless of the time frame you trade on.
We use this algorithm as a building block of all our trading strategies.
The Pivot Points Analyzer has controls to change the parameters responsible for the algorithm's sensitivity in peak selection. You can adjust the thresholds for time-, magnitude- and combined selection criteria.
In addition, the Analyzer has an option to turn off the real-time mode. Then the pivot points are detected based on all the available data, which obviously improves accuracy. Hence, this mode can be used to evaluate the accuracy of the real-time detection.
The software works in Windows. The GUI is intuitive and peak selection works instantly, also while zooming in and out. Try for yourself!