Pivot Points Analyzer is free for our subscribers. Subscribe to Download.
The Pivot Points Analyzer (PPA) software uses a proprietary algorithm for time series analysis to detect the Forex market extremes in real time.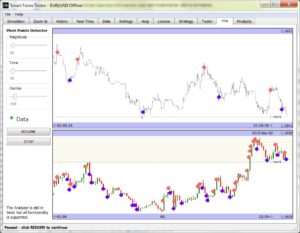 Forex trading is stressful and can take a lot of time. The Pivot Points Analyzer reduces your stress and boost your effectiveness by automating the routine.
Take a look at the sample screenshot. The pivot points detected are marked with dots. Red dots indicate market tops, and blue dots – bottoms. If you had access to these signals, would you be able to profit from them?
The upper graph of our example shows the price action for just about 15 minutes. The software detected 4 tops and 4 bottoms during this time, which is quite many. You could lower the sensitivity of the detector and so get rid of less significant extremes. You can adjust the parameters according to the time frame you are interested in.
Better than indicators. 
Another very important point to notice is that the PPA plotted each extreme immediately when it was detected.  The graph shows all the dots simultaneously, because we took the screenshot at the end of the interval.
Because the PPA works in nearly real time with only a minimum lag, it can be alone used for timing of market entry or exit. Whereas indicators use averaging – and, consequently, lagging.
Furthermore, you can use the PPA as a building block for more complex trading strategies, where you can benefit from combining the PPA with indicators.
Because the PPA is able to add proper market timing to any lagging indicator, you can have the best of both worlds on longer time frames.
Hence, using the combined signals, you can enter the market much better.
In addition, the Pivot Points Analyzer has a Zoom in function where you can research the price action and review every detected pivot point with a tick accuracy.
The software works in Windows.


We will email you the download link – so please only use the real address!