What is essential for Forex strategy testing?
We bet many will answer: Forex testing software!
We don't object that software is a very important part of strategy testing. And we even develop Forex Strategy Testing Software ourselves.
But is the software the most important component? What do you think?
You might also want to check what others think – take a look at our poll:

Loading ...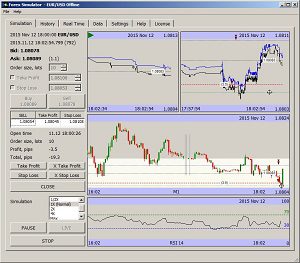 In our opinion, even the very best testing software is only a tool. We can't use it effectively without a clear action plan.
Forex Strategy Testing Needs Methodology
Let's imagine you have the best possible Forex testing software there is. And luckily, you also obtained the best possible market history data. What will you do next?
Obviously, you will get your hands dirty and start running your trading strategy against the data. But this is where the questions start to arise.
First, the data volume is enormous. Are you going to run tests against all of it?
OK, suppose you have enough computing power to crunch all the data. Here arises the next question. Did tests pass of fail?
We're afraid the latter is more probable. What would you do? Let's guess – change some strategy parameters and try again. But here we have even more questions.
How many parameters does your strategy have? How long will it take to rerun tests for all their combinations? And how many strategies do you have?
Finally, what if a strategy loses overall? Though it is clearly winning for some combination of the parameters in some market conditions, and losing for some others? Is it a fail or conditional pass? In other words, should you risk your money with the strategy?
We believe you get our point. Along with software, we need Forex Strategy Testing Methodology. Surprisingly, it appears that the problem of evaluating quality of the Forex Strategies has not been addressed sufficiently. We haven't yet seen publications covering that topic. If you happen to know some, please send us a link!
Classic Approach To Forex Strategy Testing
Using proven classic testing techniques help us get the guidance how to interpret the results and make decisions on the quality. With respect to market data, we use selected Test Scenarios to get sensible results within reasonable time. In addition, the quality of market data is crucial for testing. This is one of the reasons why we don't use Metatrader Strategy Tester.
For maximum testing efficiency, we develop our own Forex strategy testing software and practices to test trading strategies systematically and more objectively evaluate their quality. Our tools and approach go hand in hand with development of our own Forex strategies, especially for price action trading.
Our testing software is developed for automated testing. The software is being designed to make trading strategy description easy. So that one doesn't have to be a skilled software developer to write a strategy implementation. With the same approach we are going to implement automated merging of trading strategies and – as the ultimate goal – automated trading strategy optimization.
Last but not least – In our software, we are implementing interfaces to MetaTrader terminal. First of all, this is done so that any trading strategy we test can be used for real trading as well. The interface in the opposite direction is no less interesting – this makes it possible to use our strategy testing framework for Expert Advisor testing.
Forex Strategy Testing And Trading Automation
These two go hand in hand. Automated trading system in an excellent way to avoid human errors. But before we grant the robot the full power of making trading decisions, we must trust the implementation of the trading strategy it runs. In addition, compared to manual trading, strategy testing for automated trading system can be itself automated. Which implies much better productivity.
But more to it, in such a case we can use day trading setup to test trading strategies mostly intended for position trading.
Our site is named after Forex Strategy Tester – our own Forex strategy testing software suite. (Note: we are currently productizing our software for its release to the public. You can influence! Please take part in the polls on the site and just give us your thoughts on the features and implementation).
About forexstrategytester.com
Having been testing Forex strategies for some time on our own, we decided to start this site. We want to share our ideas, tools and experience. But we also want to learn from others' experience and ideas. So we would like to build a community of like-minded people who all will get a synergy from joining.
We see this very important. Forex is a very difficult business to succeed alone. There are many big powerful players in the market. We ordinary people will never have the resources they have. So we need to join our efforts and be smart, so we must be able to get our share.