Pivot Points Analyzer (or PPA) is a new software to detect market extremes in real-time.
The value of the Pivot Points Analyzer is in that it can generate real-time market entry and exit signals like those shown on the screenshot below.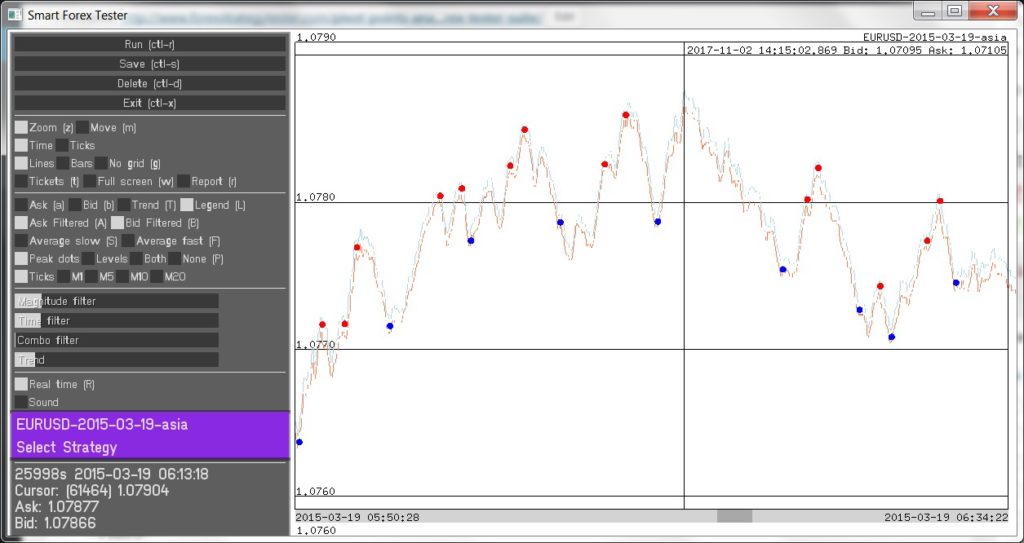 The picture shows the signals generated for about half an hour. Red dots indicate market tops, and blue dots – bottoms. Note that it is just an example – you can tune the detector to look for more or less extremes.
Would you be able to profit from these signals?
We believe so. Even though the detection is obviously not ideal, quite many signals are spot on.
If you would buy at the time a blue dot appears or sell when a red dot signaled, you could definitely close the majority of these positions with profit.
The PPA algorithm is principally different to that of indicators that are widely used in attempting to predict the market direction.
Indicators are lagging so they can't be successfully used for timing the markets.
Whereas the Pivot Points Analyzer, while following the big picture, works in real time with only a minimum lag.
A bit more details on what "real-time" means.  The picture shows many dots simultaneously, but every dot was generated exactly at the moment it is plotted. In other words, each dot is detected based on the market data available only before this time.
PPA signals can be used on its own, especially if you do day trading. But you can also use it as a building block for more sophisticated trading strategies. Here you can benefit from combining the PPA with indicators.
Important to notice, that PPA can help to minimize the losses, even if the signal was a false alert. In other words, this means the PPA signaled the extreme that is not big enough to be a pivot point.
Usually, even at small extremes, the market slows down and seesaws. So you will probably have enough time to exit if you are unsure. And you may even make a little profit from a good timed entry.
The Pivot Points Analyzer is a very powerful tool to build your trading strategy.
The PPA is now a part of the Smart Forex Tester Suite. Which means that the Analyzer is complemented will all needed to efficiently develop and test all PPA-based strategies.
Subscribe to download the Suite now.