Smart Forex Tester and Simulator are the first products that we have integrated on our new platform. Next products to be integrated are Pivot Points Analyzer and Data Recorder.
Previously, each one was a stand-alone product.
The main rationale behind integration is that all the products share many functional blocks, e.g. data engine or price graph. So integration will speed up our development process and will also help us improve quality.
To make each product available as a stand-alone software, we introduce licensing. Basic individual products will continue to be free for our subscribers, and you can have a free license for each one.
However product bundles will be premium paid products.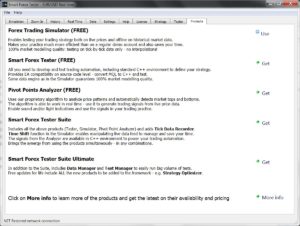 What it means for you? If you are our subscriber, you will simply need to claim your personal free license for each product that you are interested in. We will email you your personal code and instructions.
Like we said, basic licenses are free – but you will need to reinstall the licenses every time you want to switch between products. Paid bundles will provide convenience by eliminating the need to switch licenses. They will also add value because you can use bundle components simultaneously in any combination.
So be sure to check your inbox for the email with your personal credentials and download instructions.
Stay tuned!