In addition to back testing, Smart Forex Tester can also test trading strategies on live market data – in real-time!
For this functionality to work, you need to download the latest version of Forex Data Recorder, which receives real-time quotes from Metatrader via a special Expert Advisor (included in the download bundle).
Smart Forex Tester Reads Ticks From Metatrader
The figure below schematically shows how forward testing works.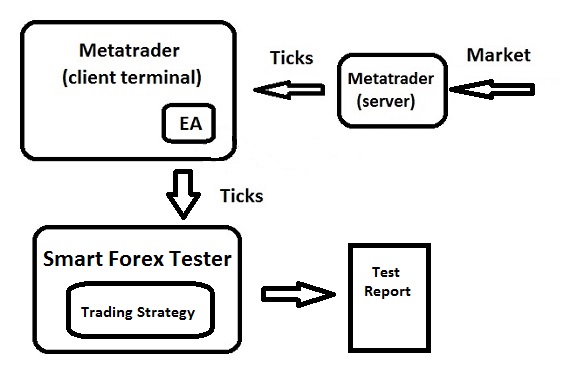 The EA box inside the Metatrader client terminal is a specially developed Expert Advisor.
Forex Data Recorder receives the ticks from the Expert Advisor and re-translates them to the Smart Forex Tester. All communication is implemented with the help of Windows messaging. This is fast and reliable method of data exchange within one machine.
Forex Data Recorder can save the received data to the file for later use for back testing. This is done in parallel with casting. In addition, the software has inbuilt test data generator which is useful for debugging purposes during the time when Forex markets are closed.