As we posted already, we are working on the Forex simulator software. We would like to ask your opinion – what is the most important to you? Please vote for the features – see the poll below. Leave  a comment if your wish is not listed in the poll. Thanks in advance!
In our opinion, Forex trading simulator must be very simple to use. However, it must also simulate the real Forex market with absolute accuracy.
To achieve that, we designed the simulator to only use real tradeable historical tick-by-tick data. No interpolations. Another important factor is high productivity. The time difference between ticks during simulation must 100% match that on the real market. Our software works fast so the tick feed accuracy is 1 millisecond.
The simulator works in Windows as a stand-alone application. The GUI is intuitive and self-explanatory.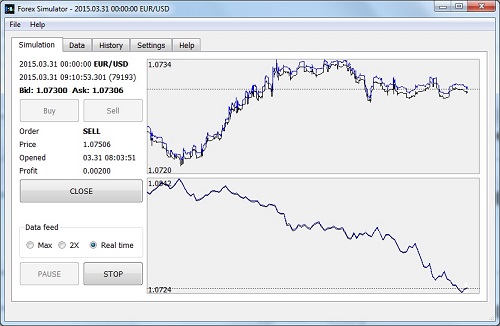 History tab has a trade register as well as the exchange log with trading server.
Please help us to make the simulator as good as possible! Select 3 features that are the most important for you. If we forgot some cool feature – please leave a comment on this page.

Loading ...
Many thanks to all who gave their vote or left a comment!