During your online trading practice on Forex (e.g. with a Demo-account), you need to be careful about how efficiently you use your time. Unfortunately, it is very easy to waste a lot of time in the market.
One of the reasons for that is that the market might be moving really slow. E.g. in Asian sessions, it is not uncommon for the price quotes to come more than 1 min after each other. But even if this is not the case, still the markets can tread water for quite a while.
The example on the below graph shows a market movement of less than 30 pips in EURUSD. This rather unimpressive action took more than 2.5 hours and well over 15,000 ticks to develop.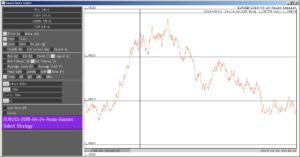 And if you look at the picture more closely, you can notice that you would practically have wasted the second half of this time.
The Forex Simulator will help you use your time much more  efficiently – and save a lot of it!
First of all, the Simulator overcomes the main problem of online trading practice with a Demo account. Namely, it can only be used when trading is active.  But live data feed is not available when we would like to practice the most: during the weekends.
With the Simulator, you can practice any time you like. Using offline simulation mode, you get your own "24/7 demo account".
With offline simulation being an obvious efficiency improvement factor, even more efficiency results from online and offline functionality complementing each other.
And last but not least – quite unexpectedly – the Simulator can offer great time savings in online trading practice, as well! With the latest and the most innovative functionality – Timeshift – you can pause the data feed in real-time and later playback at the most adequate speed and squeeze the slow moving market many fold.