Smart Forex Tester Suite includes 3 main products: Strategy Tester, Trading Simulator and Pivot Points Analyzer. Our subscribers are granted a free license for each of these stand-alone products.
Once you activate any free license, you can switch between all the above products as many times as you need. Moreover, your free licenses never expire.
You can get your free license directly from the software. This 30 s video shows how.
(if you haven't done this yet,  subscribe and download the software).
On start-up, you will see the main products menu (click on the image to enlarge):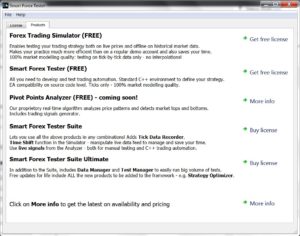 Here you click the Get free license link opposite the free product you want. (If you are unsure, no problem: just pick any – like we said, you can always switch products later!)
On the next screen you will need to enter your email address you used to subscribe and click Get free license button (click on the image to enlarge):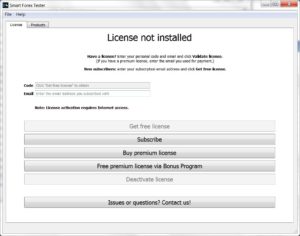 The software activates your license. Save your personal code (seen in the Code field) for later – if you want to use the software on another computer.
Next, you need to restart the software to finalize license activation. That's it – you are good to go!
Now, when you start the software, the link for the product you activated the license for,  will change to Use and all the functional tabs will be visible.
When you want to switch between free products, you will need to repeat the procedure above.  This time, you won't even need to enter your email.
In addition to free products, Smart Forex Tester Suite offers 2 premium bundles. While free products offer ample functionality which is enough for developing and testing your manual or automated trading strategy, it is the bundles that bring you to completely new level.
Premium bundles not only provide convenience by eliminating the need to switch licenses. Most importantly, they add value because you can use all the bundled products simultaneously – and in any combination.
For example, you can run in the Tester an automated trading strategy that uses the signals from the Analyzer.
Or, you can test semi-automated strategies, where you enter the market manually, but let the automated trader monitor the profits and risks for you ("autopilot" mode). Or the other way around.
As you see, the Smart Forex Tester Suite can be used in lots of different ways.