NOTE This page is deprecated.
We are working to port the recorder to our new platform.
Subscribe to get informed (and download other free Forex software!).
The quality of Forex data used for strategy testing is of the primary importance, according to the poll we did to our readers. Check the results yourself (poll located below the menu on the main page).
For our testing we use the good quality data from TrueFX, which is free. There you can download Forex tick data for many years. The fresh data files for 15 main currency pairs are available in the beginning of each month.
But it would be very convenient to have fresh Forex data, e.g. for today's session or even for last hour – to quickly back test your strategy in current market conditions.
As the majority of amateur Forex traders use Metatrader as their trading terminal, it would be convenient to collect the ticks directly from there.
We implemented the software which can do that.
Forex Data acquisition in real time
Forex Data Recorder is a stand-alone Windows application which works in pair with an Expert Advisor.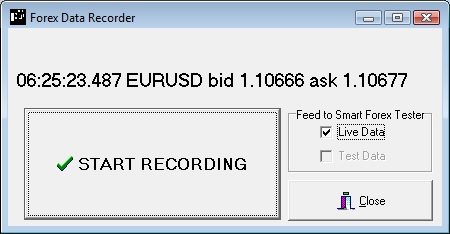 To work properly, Forex Data Recorder needs the special Expert Advisor (included in the download bundle).
Using the tool for storing data is very simple.
download the software and extract the files from the archive.
start the Windows application (forecorder.exe).
copy the Expert Advisor (foreCorder.ex4) to the Metatrader's folder for advisors.
place the Expert Advisor on the desired graph in the Metatrader.
NOTE: don't forget to check the box "Allow DLL import"!
ticks from the Expert Advisor will be shown in the real time in Forex Data Recorder, as on the screenshot above.
Click "Start Recording" – button and give a file name where you want to store the tick by tick data. NOTE: ticks are collected immediately after button is clicked and kept in the internal buffer memory while you specify the output file.
That's it!
NOTE: the controls under the name "Feed to Smart Forex Tester" are needed for forward testing. They don't affect tick data storing. Leave them unchecked. Their work is explained in the Smart Forex Tester User's Guide.
The stored data will be in a CSV-file, which you can use as the test data for Smart Forex Tester without any modifications.
Collecting the Forex market data this way can be convenient e.g. in the situation when you don't have time to follow a trading session. You can start the data recorder, and in the evening you can quickly test your strategies on the fresh data.