Forex Simulator has recently added many new features. Just a few examples.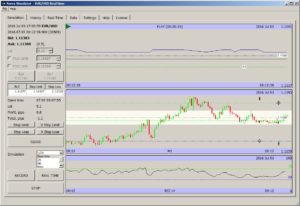 You can now run online simulation on 10 main currency pairs without need for any demo account.
The latest and most innovative feature is Timeshift, which makes it possible to pause/resume real-time simulation.
Many more features are on our roadmap. But we want to develop the most popular first. So we need your feedback – please vote in our poll!

Loading ...
Here is more details about some features:
enhanced graphics. Show tooltips (e.g. order profit), zoom in and out, scroll with mouse, detach graphs as separate windows, etc.
tick data recorder. Record a trading session while you are at work. Practice on it while commuting home.
trade recorder/player. Save your practice for later analysis.
multiuser mode. Practice together with your friends or have a content.
autotrader. Compete with automated trading strategy.
Real time price sync. Download from the server the price data that you missed during online simulation when your Internet connection was lost.