UPDATE June, 10: we just released All-NEW Smart Forex Tester 1.0 (beta)!  With C++ trading strategies, it provides EA-compatibility: after straightforward source code modifications, EA strategies can be compiled and run in the Smart Forex Tester environment. Subscribe to download
Smart Forex Tester is a new original tool for evaluating trading strategies.
Back testing is performed with 100% modelling quality: the tool only works on tick-by-tick historical market data – no data interpolation is ever used.
Smart Forex Tester can also receive real-time market data. In this mode, it can generate live forex signals.
The live data is received from a Metatrader terminal via our special Expert Advisor. Alternatively, you can feed live data for 10 main currency pairs from our Forex Simulator.
High quality historical market data for 15 main pairs since 2009 is available as monthly .csv files.  All tick-by-tick test data is free.
Smart Forex Tester requires a free subscription to download.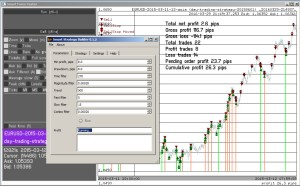 The Smart Forex Tester download bundle also includes the following software:
Forex Data Manager – to prepare test scenario files from the bulk historical tick by tick data.
Forex Data Recorder (+ EA) – to test on live data feed. The EA sends the live ticks from Metatrader. Data Recorder receives the ticks and forwards them to Tester. All passing tick data can also be saved to file for later use in back testing.
Pivot Point Analyzer (is now integrated in the tester) – uses our original peak detection algorithm to locate market extremes it real-time.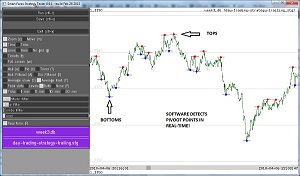 The signals from the Analyzer make it possible to enter or exit a trade very close to market tops or bottoms.
A working example of automated price action day trading strategy using the same algorithm is also included.



Please only use the email you have access to!
You will need to receive our message and confirm the address.