Smart Forex Tester is free for our subscribers. Subscribe to Download.
Smart Forex Tester provides a full-fledged C++ environment to develop and research your trading strategy. Both back- and forward testing are supported.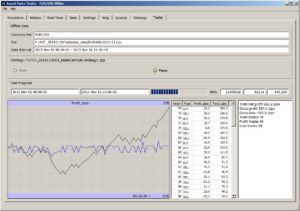 The tester only uses real ticks – it never interpolates the market data. This guarantees 100% market modeling quality.  Moreover, each tick is rendered strictly according to its original time stamp with up to 1 ms accuracy.
The C++ environment makes the Tester EA-compatible on source code level, because MQL is very like C++.
You can compile and run a MQL code in the Tester after making syntax changes. The trading interfaces between the C++ strategy and the Tester engine are similar to those used in MT.
High quality historical market data for 15 main pairs since 2009 is available as monthly .csv files.  All tick-by-tick test data is free.
Smart Forex Tester can also work in real-time on live market data. Real tradeable quotes for 10 main currency pairs are available – free and no account needed!
You can analyze your trades using zoom in function.  It shows a snapshot of the market with a tick accuracy – even when the test continues running at the maximum speed.
The tool can even simulate the delay in the trading server responses, which is always present in real life.

NOTE: only use your real address – we'll email the download link to you!